Historic Dates From The Musa Dagh Battle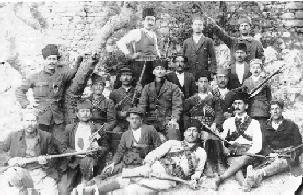 July 31, 1915- The first day of mass migration from the villages to the high mountains in rebellion against the Turkish government.
August 3, 1915- The first self-defense groups are organized.
August 7, 1915- The first skirmish with the Turks.
August 19/20, 1915- Heavy fighting against the Turkish army at the end of which the Turks retreat.
September 5, 1915- The French battleship Guichen is observed and contacted.
September 15, 1915- Guichen and four other battleships evacuate the Armenians of Musa Dagh to Port Said, Egypt.
---